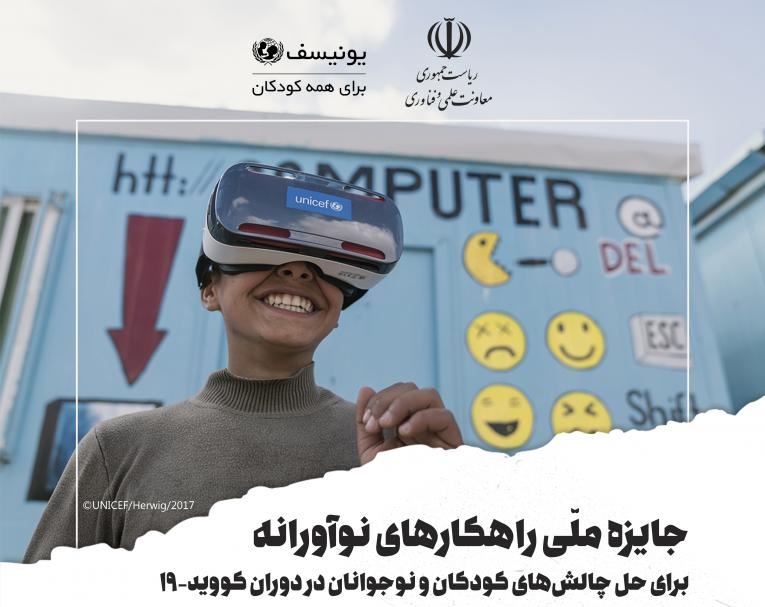 According to the arrangements made by the Secretariat of INOTEX 2021 and the United Nations Children's Fund (UNICEF), the closing ceremony and the awarding ceremony of the National Prize for Innovative Solutions to the Challenges of Children and Adolescents during the Corona Epidemic will be held at INOTEX 2021 exhibition.
According to the public relations of Pardis Technology Park, ‌the National Award on Innovative Solutions for Challenges faced by Children and Adolescents during COVID-19 is a joint initiative by the Vice Presidency for Science and Technology and United Nations Children's Fund (UNICEF) in Iran, designed to promote the culture of innovations for children in Iran.
The purpose of this program is to facilitate and strengthen synergies and opportunities in the technology and innovation ecosystem of the country; It also aims at developing strategies in the areas of education, nutrition, health, physical and mental health, child protection, economics, environment, culture, recreation and sport, focusing on the challenges that have made the Corona pandemic more complex.
Examples of these strategies are: accessible virtual education platforms, digital health systems, child protection against cyberbullying, skill strategies for adolescents, innovative flips, cost-effective social innovations, and other solutions using basic and emerging technologies.
It is worth mentioning that companies and institutions could already send their innovative solutions within the framework of this program until October 2020.
According to the evaluation of all the designs received by a competent judging team, the top designs will be honored along with the awards at INOTEX 2021. The top projects also benefit from the technical and financial support of the Vice Presidency for Science and Technology and the technical support of the UNICEF Office in Iran, so that these strategies can be used effectively to support children in Iran.
Given the alignment of the goals of the INOTEX International Exhibition of Innovation and Technology and this national award, the Secretariat of the 10th INOTEX Exhibition has expressed the hope that by holding this program and the innovative solutions through which it is proposed, the hopes of the innovation ecosystem will be further nurtured during the Corona virus epidemic.